For a long time I used Google Analytics to provide webstats for me and for my clients – and it worked. Great stats, pretty graphs, nice figures – everything I needed.The problem I had was that I couldn't get real time stats – I had to wait until the next day, by which time in some cases it was too late to react to surges in traffic.
I needed something that showed me what my visitors were doing and where they were coming from NOW, not yesterday!
And then I found GetClicky.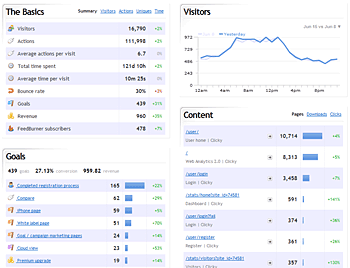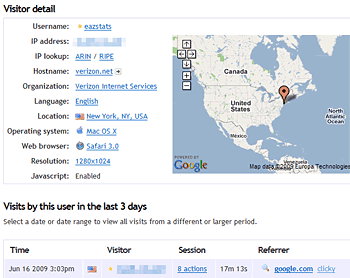 As they say about themselves:
Clicky is a web analyzer that works great with any web site, even Ajax and Flash sites. It was originally targeted towards smaller web sites and blogs because it tracks a high level of detail on every visitor, and these types of sites find this information very interesting.

It's the high level of detail, combined with the fact that I can see what visitors are doing RIGHT NOW that makes GetClicky the perfect stats tool for me.
So what do you get?
The Dashboard:
The dashboard is an overview of the traffic to your site – telling you how mny visitors you've had (and showing you trends in a nifty little graph), how many actions those vistors have taken (eg where have they gone in your site), where your visitors have come from, what search phrases they have used and which pages they have visited.As an overview of your traffic, it's very useful, but it's in the nitty gritty that getClicky excels, and that's what's more exciting to me.
Visitors

The Visitors tab gies you a list of all your recent visitors, and tells you where they came to your site from.You'll know what time they visited, what their IP address is, how many actions they took on your site, and if the referrer was a search engine, what search phrases they used.
This can be filtered in a number of ways and is very useful information.
Actions

I love the Actions tab as it shows me what each and every visitor has doen on my sites. I can see that one visitor has come to the site from an article that was Stumbled on Stumbleupon, and has not only read that article, but has clicked on the links in it to go to external sites, returned to my site and read some more articles, and even whether they have clicked on an email link to email me. By the time I receive the email I probably already know who they are and what they've been looking at and can tailor my reply accordingly – how cool is THAT?
Content

The content tab shows me which pages of my site are being visited, which are the entrance pages, exit pages, which of my files are being downloaded (in my main site, www.nikkipilkington.com, I have PDF versions of my internet marketing articles – this view tells me how many downloads they get every day) and more.
Links

Like most other traffic stats, this tells me where my visitors are coming from. But unlike most other traffic stats, it also shows me which links a visitor is clicking on to LEAVE my site.
This is great – I know whether links in my articles are being visited, recommendations are being followed, links to other sites I own are being clicked – even down to whether someoneclicks on an email link. I can also track visitors that leave to read something I have recommended and then come back! This to me is vital information and one of my favourite GetClicky features.
Searches
The searches tab shows me the latest search phrases I am being fond for on search engines – it's always interesting to see the searches that bring people to my various sites – intended and unintentional 😉
Spy
This is my favourite GetClicky tab of all.
I can see, in REAL TIME, visitors on my site. I can see which pages they are clicking on, which files they are downloading, external links they are following, and more.
It allows me to react to visitors almost instantly – if I can see that lots of people are on Using Twitter for Business part one on my Business on twitter site, I can quickly amend the page to add a link to other more recent articles I may have written, in order to drive traffic there. If I see that lots of people are clicking on an external link to someone else's blog, I can make sure I let the blog writer know, and investigate any synergy we may have to exploit the large amounts of traffic.
The spy tab has a multitude of uses – but I wanr you, it's very addictive 😉
All in all I think GetClicky is as close to perfect as a web stats tool can get.
Pricing?

There is a free service, which doesn't include the Spy tab, and if you sign up now you'll get a free 21 day trial of the Premium service, which is what I use. It's only $60 for the year and you can pay monthly – it's well worth the investment to have your traffic stats NOW instead of tomorrow.
So, why not given it a go? Sign up now at Get Clicky and let me know how you get on!